---
Faculty - Faculty of Business and Economics

Research area

Corporate Social Responsibility and Corporate Philanthropy in Small and Medium Enterprises.
Expert/technical profile of the team (specific part of research)

The research team deals with corporate social responsibility with the small and medium enterprises target group. The members of the team elaborate quantitative and qualitative research in this fi eld; analyse legal, political, economical, social and ecological environment in the relation to CSR (corporate social responsibility). They map the current situation and development in the Czech Republic and compare is to the situation on EU and outside the EU. Their aim is to suggest suitable strategies of CSR implementation in small and medium enterprises. The research cooperation with foreign members is done in narrow focus on corporate philanthropy (which is a part of CSR). The aim of the research team is to suggest solutions for small and medium enterprises in corporate philanthropy - based on the knowledge of current situation in V4 countries - Czech Republic, Slovakia, Hungary and Poland.
Another foreign cooperation is in the topic - Trend of business ethics and CSR in pharmaceutical, tobacco, alcohol industry in V4 countries (Research via questionnaires and market analysis). The research and publication activity is extended in the form of J, B, C, D outputs.
Research team

Sylvie Formánková, PhD., team leader, contact: sylvie.formankova@mendelu.cz, tel.: +420 777 160 519
Renata Kučerová, PhD., Mendel University in Brno, Czech Republic
Renata Skýpalová, Mendel University in Brno, Czech Republic
JUDr. Andrea Hrdličková, PhD.,Mendel University in Brno, Czech Republic
Markéta Lőrinczy, Mendel University in Brno, Czech Republic
Prof. Iveta Ubrežiová, PhD., University of Agriculture in Nitra, Slovakia
Anna Dunay, PhD., Szent István University, Hungary
Leszek Czichoblazinski PhD., Częstochowa University of Technology, Poland
Radoslav Jankal, PhD., University of Zilina, Slovak
Assoc. Prof. Wlodzimierz Sroka, Academy of Business in Dabrowa Gornicza, Poland
Richárd Szántó, PhD., Corvinus University of Budapest, Hungary
---
Details of the research team: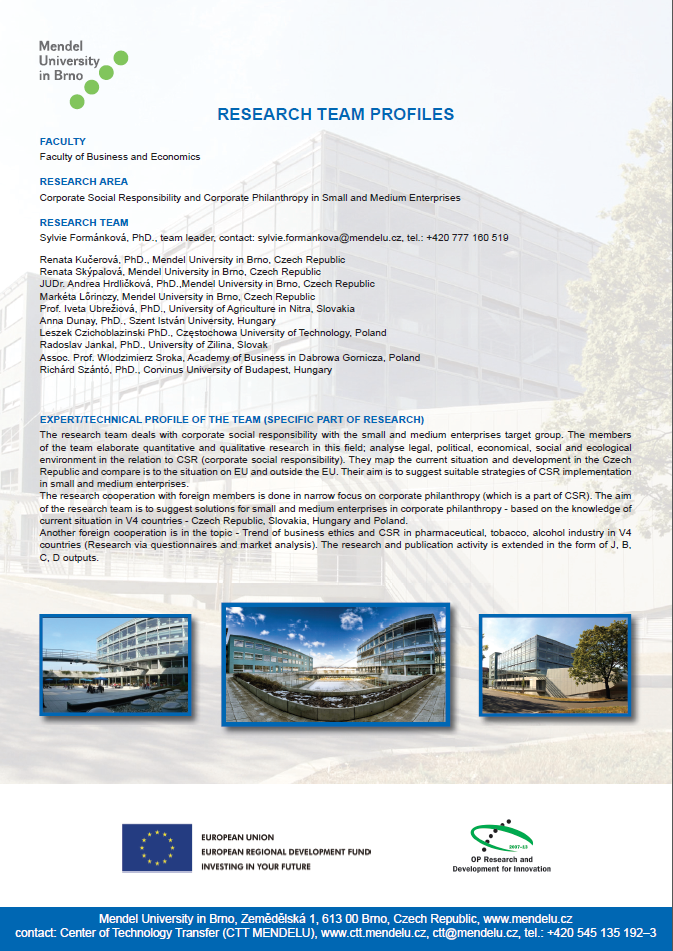 ---
   Back to the list of research team profiles. / Zpět na přehled výzkumných týmů.

---