---
Faculty - Faculty of Business and Economics

Research area

Sentiment Analysis of Financial News, Social Media and Surveys
Expert/technical profile of the team (specific part of research)

The research group focuses on two areas, (1) impact of sentiment on fi nancial markets and (2) perception of macroeconomic indicators. We employ time series and panel data analysis of the text mined data, macroeconomic shocks, institutional environment indicators, regional and fi rm controls.
The text mining procedures combine heterogeneous resources of textual data representing newspaper fi nancial articles and attitudes of large number of individuals from social networks. Our contribution is in sentiment expressed by the commenting, liking and talking about the specifi c news. The panel and cross-sectional models refl ect possible endogeneity problems and non-linearities (included threshold and asymmetric effects). In the fi eld of time-series analysis we employ causality models of stationary and non-stationary datasets. Moreover we adopt time-frequency approach (wavelets) to identify short-term, medium and long-run fl uctuations and co-movements in time series.
The theoretical part of the research develops economic agent behavior by focusing on its psychological aspects. We focus on irrationalities infl uenced by prevailing specifi c psychological states and information which are irrelevant to economic circumstances.
Research team

Assoc. Prof. Svatopluk Kapounek, PhD., team leader, contact: kapounek@mendelu.cz, tel.: +420 545 132 444
Assoc. Prof. Jan Žižka, CSc., Mendel University in Brno, Czech Republic
Assoc. Prof. František Dařena, PhD., Mendel University in Brno, Czech Republic
Martin Širůček, PhD., Mendel University in Brno, Czech Republic
Jaroslav Bukovina, Mendel University in Brno, Czech Republic
Prof. Jarko Fidrmuc, Zeppelin University in Friedrichshafen, Germany
Prof. Laurent Weill, University of Strasbourg, France
Prof. Pavel Brazdil, University of Porto, Portugal
---
Details of the research team: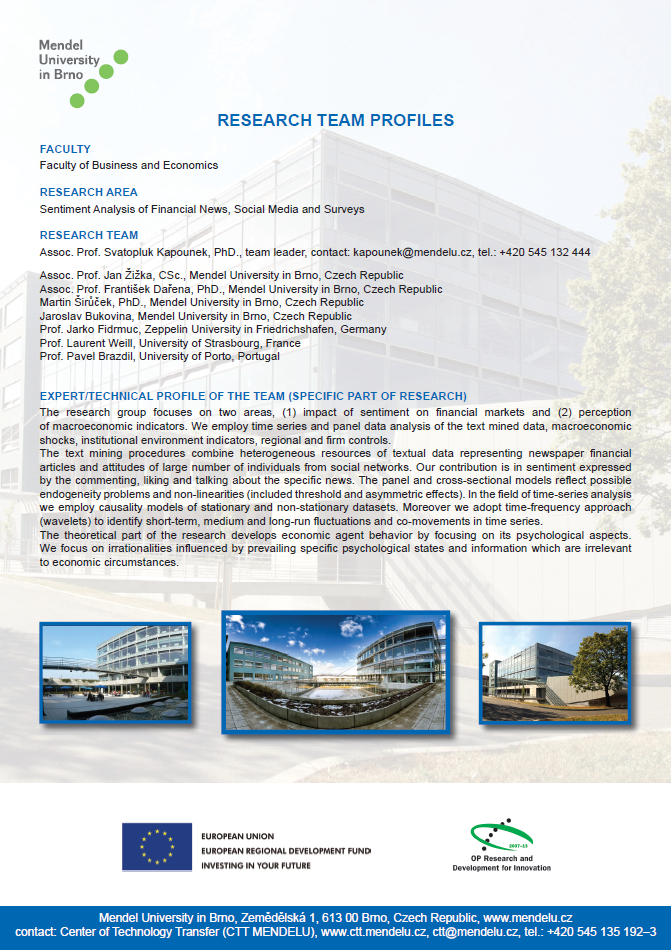 ---
   Back to the list of research team profiles. / Zpět na přehled výzkumných týmů.

---