---
Faculty - Faculty of Business and Economics

Research area

Expert/technical profile of the team (specific part of research)

Our computer vision research is applied in three areas
Robotics: autonomous robot navigation, object recognition, scene reconstruction. Team members are involved in development of autonomous robot Advee (http://www.advee.eu/) as well as in different robotic challenges.
Geographical Information Technologies: point cloud (laser scanning data) processing and related object recognition (traffi c signs etc.), aerial imagery processing. We cooperate with Faculty of Mechanical Engineering Brno University of Technology and Faculty of Forestry Mendel University in Brno on development of the object recognition algorithms.
User Experience: user interface design, usability evaluation, state-of-the-art visualization techniques (augmented reality, 3D visualization, natural user interfaces etc.) Among other results, we developed portable augmented reality engine based on Open Computer Vision library that incorporates several object recognition algorithms.
Mobile application development: mobile GIS, location based services, augmented reality etc. Our team currently develops a complex mobile mapping application for digital fl ood plans data acquisition in cooperation with ENVIPARTNER corporation.
Research group uses two specialized laboratories. The fi rst one is Virtual Reality Laboratory. VRL is equipped with large stereoscopic projection, several common projections, 3D helmet Oculus Rift, over than 40 different mobile devices (mostly iOS and Android cellphones and tablets) and various input/output devices (cameras, goggles etc.). Computers range from small MacMini for embedded solutions to professional workstation based on Apple MacPro with two Xeon processors and 3 graphical cards. The other lab is Intelligent Systems Laboratory for robotics and industrial applications. ISL consists of 5 and 6 axis spherical manipulation units, CompactRIO and DataLab embedded solutions, systems for modelling and simulation (Ball & Plate Model, Magnetic Levitation Model, PneuTrainer, related Matlab toolboxes etc.), 3D printer Dimension and many educations setups (10x LEGO Mindstorm, 10x FMS 200 etc.)
Research team

David Procházka, PhD., team leader, contact: david.prochazka@mendelu.cz, tel.: +420 545 132 240
Vít Ondroušek, PhD., Mendel University in Brno, Czech Republic
Jiří Lýsek, PhD., Mendel University in Brno, Czech Republic
Jan Kolomazník, PhD., Mendel University in Brno, Czech Republic
Jaromír Landa, PhD., Mendel University in Brno, Czech Republic
---
Details of the research team: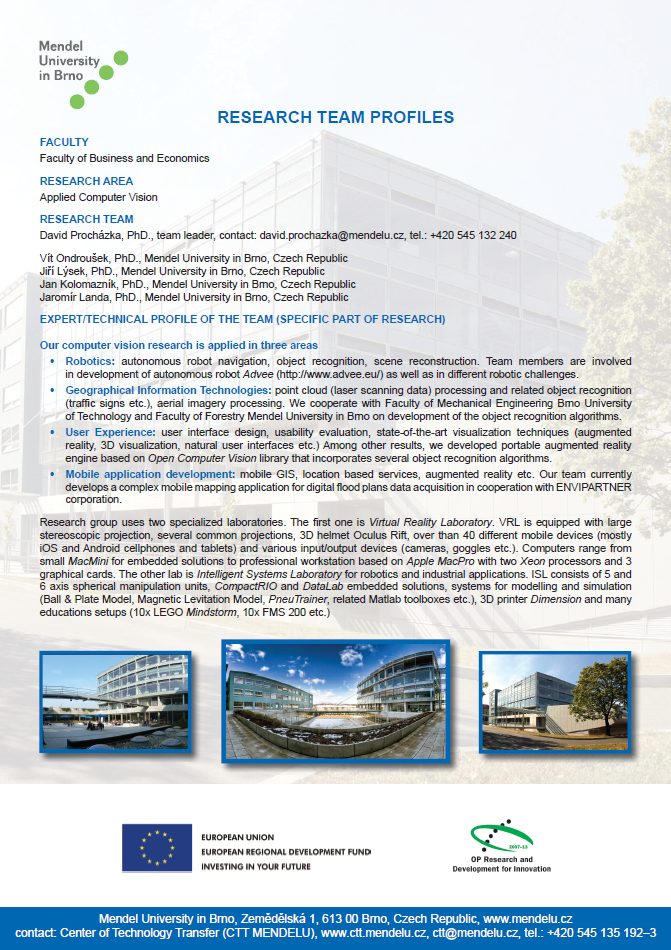 ---
   Back to the list of research team profiles. / Zpět na přehled výzkumných týmů.

---